The American Motorcyclist Association (AMA), the Motorcycle Riders Foundation (MRF), all of the separate ABATE's and Confederation of Clubs organized throughout the country have taken active roles in seeking parity for those of us who call ourselves Bikers. Traditionally, the equality sought by these organizations has centered around legislative issues such as helmet law proposals, bike bans from certain roads, and the relatively new topic of insurance discrimination. An issue that has been "sidestepped" to a degree is the issue concerning parity...equality...extended to motorcyclists for some of the simplest things that non-riders take for granted.
While there is no "Biker Bible" which I am aware of, it has been my experience that biker social hierarchy, based on level of commitment and depth of "brotherhood" typically puts 1%er clubs at the top (3 piece/ diamond), Motorcycle Clubs (3 piece) in the middle and Riding Clubs/ Associations (1 piece) third. This does not mean to say that a person belonging to a riding club cannot/ does not engage in unlawful acts, nor does it say that a person who is a 1%er must engage in unlawful acts. Also, the type of patch worn by a person does not necessarily mean that their commitment is any greater or lesser to the lifestyle as, say, a person who is a "Lone Wolf" (independent) who wears no patch. Read on to learn more.
"Three Piece"
A "three piece" patch is composed of two rockers (above and below) and a "main" (middle) patch and is usually indicative of an "outlaw" motorcycle club. Please notice that the "outlaw" moniker does NOT equate with 1%er (detailed below). The top patch, or "rocker" usually states the club's name and the bottom "rocker" usually denotes the area the club claims as their own. The center patch usually has the club's mark. This type of patch is indicative of a recognized "outlaw club" (a group of individuals sharing a common interest/ bond). An outlaw club typically upholds long-established traditions including the use of a prospecting period, having a male-dominated hierarchy, and employing "property of" patches for female members. Any "three piece" worth their salt will have contacted the dominant (or "Dom") 1%er club before patching up or opening a chapter and receiving their blessing. This is an act of respect for the Dom club in the area. A "blessing" in this case, may be as simple as an "OK" if the Dom doesn't really give a shit about the club or it may mean more, depending on the Dom club's attitude about "three piecers" rolling into to town (Other club affiliations, especially 1%er affiliations come into play). A second act of respect is to make every effort to contact the other established three piece clubs in the area to let them know who you are and what your mission is (if the club has one). While you do not have to HAVE the blessing of the established clubs in the area, it makes setting up shop MUCH more enjoyable.
If you are asked to join a three piece club, you will usually begin as a "hang around" (allowed to ride and interact with the club, but having NO voice in club operations). If a club brother stands and acts as your mentor, then you enter the "prospect" phase. As a prospect, whatever you do reflects directly on your mentor. It is a good idea to really get to know all of your potential brothers in the club during your "hang around", "Prospect*" or "Probate*" period to find out if there are any internal club problems or problems with other clubs in the area. You do not want to "patch up" only to find that the reason you were asked was because the club needed to expand to face a threat. The club's problems, and that of its members, become YOUR problems.

*prospect- A prospective member of the club. Usually reserved for someone who has never been a member of any club and is "earning" his way into the club through his actions and demeanor. A prospect almost always has a mentor (an established, full-patched member of the club willing to educate the prospect on protocol, club history, and other topics). Any questions or concerns regarding the prospect should be directed to the mentor.

*probate- A probationary member of the club. Oftentimes, a "probie" or "probate" will have already been a member of a different club and is in the process of "patching over" from one club to another.Oftentimes, they receive similar treatment and education as a prospect, but their probationary time is shorter.

"Property of"- A "property of" patch is typically worn by female members of an outlaw club/ 1% club to denote membership in that club. Citizens are often taken aback by the "property of" patch as, on the surface, it denotes ownership of another. However, the "property of" patch has a different meaning in the MC world. Within this world, the "property of" patch serves as a WARNING to others outside the club that the female member wearing this patch is to be respected the same as a fully patched male member and that the female member warrants the same protections as their male counterparts. This patch does not make the female member equal within club hierarchy.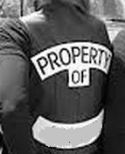 PLEASE NOTE: You may observe a prospect being ordered around by his club members or being tasked with menial labor such as parking cars, tending bar, etc. You may also hear club members refer to that person as "Prospect!" when telling them to do something. Unless you are a member of that club, DO NOT refer to that person as "Prospect" unless/until a member of that club has given you permission to do so, and do not attempt to order that prospect around. He is prospecting for his club brothers; not you. Remember that citizens (people not wearing colors/ independents) AND "RC" (riding club) members are "lower" in the club hierarchy than a prospect. As an independent, RC member or club member, always remember that RESPECT is a HUGE expectation in this world. Don't act an ass and for those who like to drink; Don't think getting drunk and acting an ass will give you a "pass". If you tend to "let loose" when drunk, the consequences of your actions are the same as if you were sober. All boiled down, if you have issues when drunk, then DON'T DRINK. You may have more than a hang over to deal with the following day.


---
"One Percenter"
Typically, a three piece patch with a smaller diamond, square, or circle patch containing the "1%" emblem somewhere on the "cut" (a denim vest with the arms/ collar "cut" off) denotes a recognized "One Percenter " club. (As above, but with much more commitment, sometimes to the point of signing over personal property to the club). This relatively small piece of material carries TONS of weight and is not to be dismissed! Members of 1%er clubs have / are willing to do whatever necessary to safeguard the club and its members. These guys have sacrificed everything for the club and will NOT be disrespected even if you are ignorant of club rules. You may see 1%ers at motorcycle expos selling support gear. They may seem friendly in that context, but do not assume that the same person you were making small talk with at the expo will react favorably to you if you come walking up to him and his brothers some other place. Allow the patch holder to address you first. Do not get bent if you are ignored. This is a very secretive, very select group of men. There is a reason for this. Do not expect to "jump in" with a 1%er club. Any 1%er club worth its salt will have a LONG "vetting" process which can take years of hanging around* with club members before being asked to prospect. You can find a decent synopsis of 1%er organization in this research paper on Scribd. A more "scholarly" paper titled "A Brief History of "Outlaw" Motorcycle Clubs" maintained at the International Journal of Motorcycle Studies website is also available.
* hang around- A hang around is someone, typically a civilian, who hangs around with and supports club members and their events.

---
"Riding Club, Group, Association"
Many riding groups and associations side-step the "club" controversy altogether by using a "one piece" patch with/ without either the "MC" (motorcycle club), "VMC" (veterans motorcycle club), or "RC" (riding club) designators or no designator at all. The "one piece" patch typically presents the same information as a three piece patch, but there are no separate rockers above/ below the "main". Most one piece patches are "bought" rather than "earned ", although one piece patch clubs flying the "MC" designator somewhere on the patch can have the same/ similar hierarchy and structure as a three piece club. Typically, the established operation in place by "clubbers" and "1%ers" is not in place in "one piece" riding clubs or are modified for easier access as a member of the group. Requirements such as acting as "prospect" or "probate" are usually not enforced. Additionally, females, usually kept as passengers in a club can operate a motorcycle and have all of the benefits of their male group members. This is a rarity in clubs and unheard of in 1%er clubs.
Most one piece groups use a "pay and play" procedure. You purchase the patch (RC's do not wear "Colors"), meet whatever criteria the group has, and you are a member. Since one piece patch groups are seen NOT as outlaw clubs, their members reside outside of the normal "club world". Even though, one piece members are still expected to show the same respect and decorum as anyone else when at club events. Vice versa, any club member or 1%er who does not have direct conflict with the PERSON wearing a one piece patch is expected to give an amount of respect. Notice that the person is important in this instance as one piece patch holders are NOT seen as belonging to a "club" and therefore are usually treated the same as a citizen or independent rider. RC groups are tasked with "policing" their members by reminding them that they are NOT "clubbers". It has been my experience that younger members, unfamiliar with this social hierarchy, fail to distinguish the difference between an MC and RC and if left un-checked, this can create major headaches for the other members of the RC (up to and including direct conflict with legitimate MC's in the area). There's nothing wrong in taking pride in your group's accomplishments, but it's good to remember your "place" within this social structure.
Click HERE for a huge collection of club colors from around the world.
So, if you've read THIS far, you have to decide for yourself how much of what I have written is bullshit and/ or not applicable to your area. If you are thinking that I'm full of it, before you let the cyber door smack you in the ass, do yourself a favor and look for someone locally who can answer your questions.
If you are new to motorcycling, or are thinking about wading deeper into the motorcycling "sub culture" then do yourself a favor... Keep your mouth shut, your ears open and look for a "silverback " (someone who has been around for awhile), and learn from them. Webpages and books can only inform ... You have to "be in the mix" to really learn about the brotherhood and there is always something new to learn. I have met some fascinating bikers (independents, associates, clubbers and one percenters) in my time and it is worth the effort to become knowledgeable about the people you are going to hang with. Remember to always show respect, don't show your ass and never try to run a game on anybody ... Bikers are smarter than most folks give them credit for.
If you are a 1%er, clubber or rider wishing to add to or correct any of the information found here, please feel free to do so.